Partula - icons of evolution
In 1906 Henry Crampton started what came to be the world's greatest study of evolution in nature. His intention was to demonstrate that adaptation and Mendelian genetics could explain the evolution of species. This is the essence of Darwin's theory of evolution by natural selection, but at the turn of the 20th century the theory had not been demonstrated in nature. The Partula snails seemed an ideal group to study: they were clearly marked, with many distinct varieties, and could be found in thousands. In studying these snails Crampton was to break new ground in two ways: firstly in demonstrating the effects of selection in the wild and, secondly, in applying the newly developing techniques of statistics to wild populations. These things are now commonplace, but Crampton and Partula were the leaders of the revolution that was to turn natural history into biology.
Download new species descriptions ----- Download synonymy ----- Order
Crampton was soon to realise that the topic was far larger and more complex than he had anticipated. It took him 10 years to complete his Tahitian work, publishing one of the great biological monographs of all time in 1916. His 'Studies on the variation, distribution and evolution of the genus Partula. The species inhabiting Tahiti' is a finely detailed work of scholarship, describing every minute variation of every species and variety of Partula from every valley on Tahiti. At the end of the book are exquisite colour pictures of every single variety.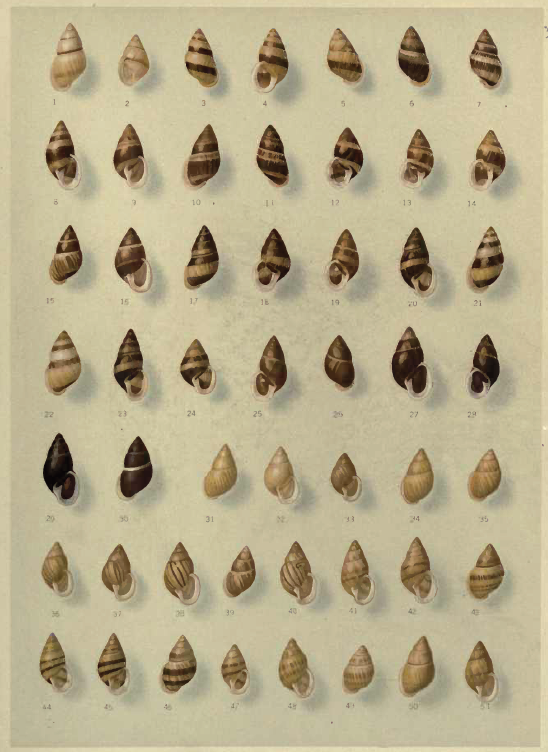 After Tahiti, Crampton concentrated on Moorea, visiting the island over and over again. Despite being smaller than Tahiti and having fewer Species, his Moorean monograph was not completed until 1932. He was slightly distracted by a smaller monograph on the species of the Marianas islands, but his perfectionism and obsessive collecting were the main causes of the slow rate of publication. He then moved on to the smaller islands of Bora Bora, Huahine, Tahaa and the astonishingly diverse island of Raiatea. He published a few short papers describing new species but never finished the monographs for the other islands. When he died in 1956 his unpublished work was boxed up and put into storage. Bryan Clarke and Jim Murray searched through it when working on the Moorean snail genetics decades later, but otherwise it has been shut away.
100 years after the publication of Crampton's great Tahiti volume his work has been completed. The new monograph revises and updates all Crampton's published and unpublished Partula studies, providing a comprehensive review of all the species. The old historical documents are also summarised, from 1768 onwards. In addition our understanding of the evolution of the partulid is will be synthesised, from the field genetics studies of Clarke, Murray and Johnson, to the modern phylogenetic studies. All available information on their ecology is complied and their conservation status outlined. In this way it is intended to make Partula the iconic examples of speciation that Crampton intended them to be.
This revision consolidates the 344 names applied to the family into 103 species, including the description of 6 new species (descriptions can be downloaded here) and a fully revised synonymy. Each valid species is described with full references and synonyms, distribution maps, and photographs of 842 shells: type specimens of each species and all colour varieties. This is based on measurements of 125,824 shells, dissections of 1,244 snails and the analysis of 30 years of data from the captive breeding programme.
Select hardback or paperback below:
Outline of Partula - icons of extinction
Introduction
Partula in history - from 1769 to 1936, reproducing the original illustrations, from Martyn to Crampton
The work of Henry Crampton on Partula
Island groups - accounts of the diversity of partulids on each island group, individual accounts of each species (taxonomy, descriptions, measurements, distribution, maps of distribution of every subspecies), every subspecies fully illustrated with its colour varieties and type specimens
Evolutionary origins of the Partulidae - phylogenetic history in the context of Pacific biogeography
Evolution and ecology - inheritance of colour and shell coiling, ecological partitions, ecological factors that may act as selection pressures
Speciation in Partula - a detailed review of the data, mainly from Moorea and Tahiti. This will cover speciation, contrasting allopatric, parapatric and sympatric modes in different species, considering selection and drift, hybridisation and gene flow.
The decline of Partulidae in the 100 years since Crampton's first monograph

Examples of pages from 'Partula - icons of evolution'

Supporters of the project

Completion of the project was supported through a crowdfunding project; I am grateful to the following supporters of the project:

Debby Baker, Ric Brewer, Simon Butcher, Amy Collette, John Dimatos, John Gamble, Jose Angel Lara, Harry G. Lee, Tamara Lockman, Geoffrey Macaulay, Bruce Oppenheim, Aroldo de Roenzo, Bruce W. Skakle, Robert van Steenselen, Bethany Sumner, Branka Tokic, Oliver Vigneress, Anna L. Wood, Ada, Craig, Elisa, Jarrah, Julie K.